What is it like to do a bucket-list trip during Covid?
-by Denise Burcksen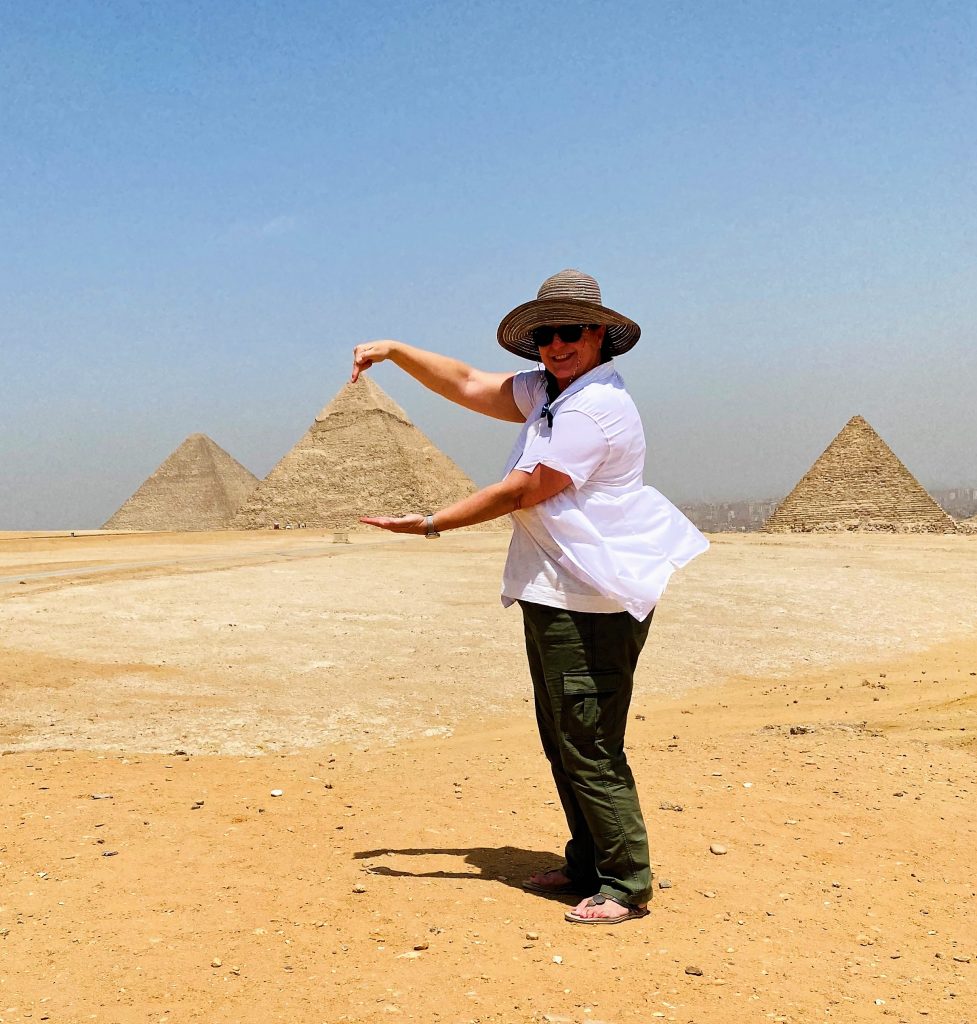 I just returned from my own bucket-list trip to Egypt, and it felt terrific to enjoy international hospitality once again! Although the jet lag from flying back really kicked my a*#, so I guess I'm rusty:)
Here's a recap of my trip in terms of what you can expect when traveling internationally these days.
The most important take-away?
NO CROWDS!
As you can see in the picture above, there I am at the Giza pyramids WITH NO PEOPLE in the background. This is a site that normally gets tens of thousands of international visitors every single day.
My traveling companions and I were fully vaccinated, and I recommend traveling internationally only if you are too.
Read on for specifics from my trip-
PRE-FLIGHT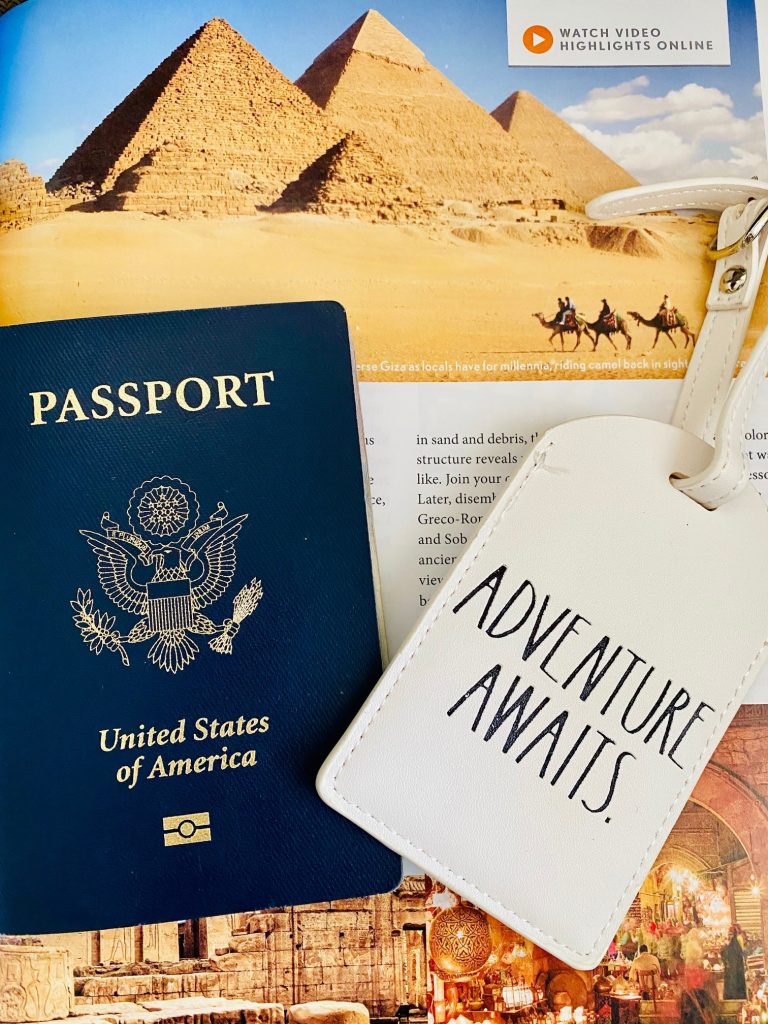 Travel Insurance is an absolute MUST these days! I made sure I had a policy that covered Covid and even quarantine costs, as a precaution.
I flew Turkish Airlines, and they require a negative PCR Covid test taken a max of 72 hours before flight departure.
So everyone that you are flying with also has to test and provide a negative Covid PCR test to get on the flight.
Egypt entry requirement is the same criteria, so one PCR test could take care of both requirements. Just depends on your timing, but most countries are allowing 72 to 96 hours for a test result to be valid so it's not difficult to satisfy this requirement.
I took a drive-through, never-get-out-of-my car rapid result PCR test at Same Day Testing the day before my flight–a nurse swabbed me through my car window- and got the email results within 16 hours. I printed out 2 copies and was all set to go.
Dulles airport was literally empty, no lines anywhere and stores were open.
Turkish Air checked my hardcopy Covid test result at check-in and also two more times before boarding.
It's 10 hours nonstop from DC to Istanbul and you have to wear a mask for the entire flight, except when eating or drinking. Flight crew was very vigilant about mask wearing, reminding passengers to put their their masks up above their nose. Yes, it's a pain -in theory. You get used to it.
Business Class busier than Economy, as I've experienced before on international flights. Flight was probably 30-40 % full so lots of space but I expect this will change drastically as countries open up and restrictions lift.
I've said this before and will say it again–airports and planes have never been cleaner!
In summary, you need a negative PCR test, hardcopy of your test, masks and patience. That's it.
ARRIVAL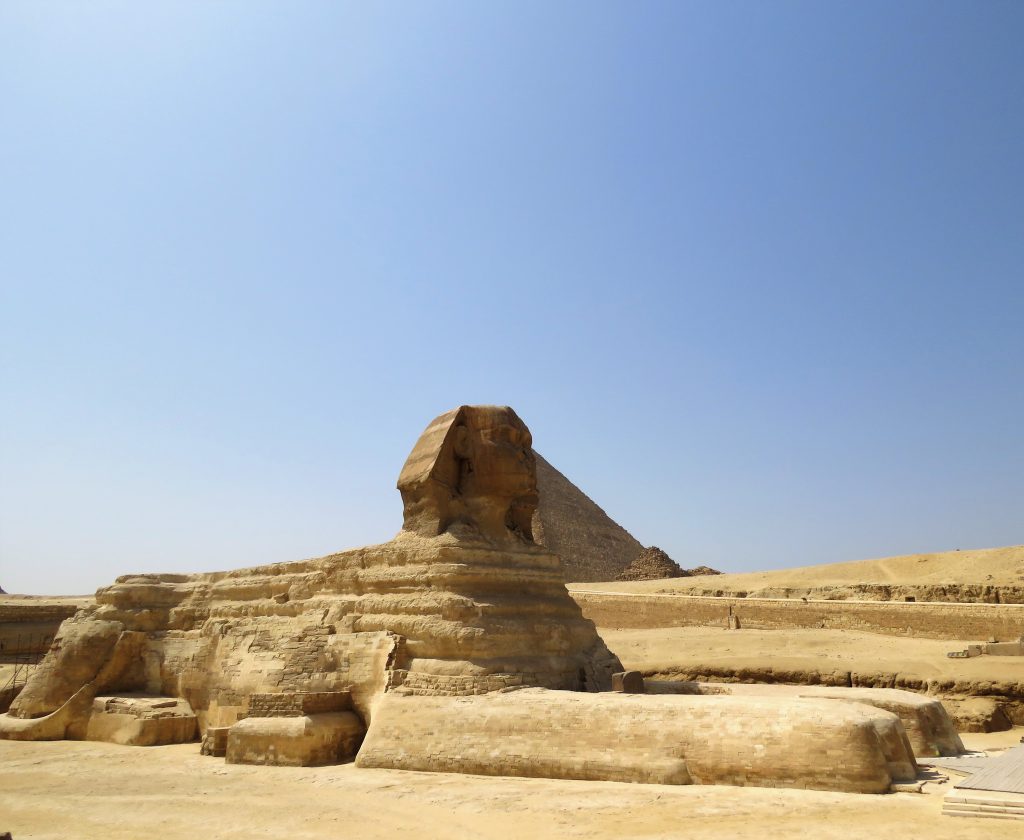 I had to connect through Istanbul to continue on to Cairo, and the new Istanbul airport is fantastic. Everything was open and it was bustling.
Upon arrival, your temperature is checked via infra-red technology and you don't even know it has happened.
Arrival in Egypt was incredible smooth, they asked to see my Covid test result at passport control, and that was it. Our handler did our visas upon arrival and was super convenient.
We had a private car (van) and driver, and the van was spotlessly clean, with hand sanitizers, tissues and bottled water. There was a plastic barrier between the driver and the back rows. Our driver was properly masked. It was the same car and driver we would have for the next 4 days so you stay in a travel bubble.
We did not have to wear masks in our own vehicle if we didn't want to-and since I was traveling with another advisor and a mutual friend and we were all fully vaccinated, we chose to not wear masks while traveling together in our little travel bubble.
TOURING / SIGHTSEEING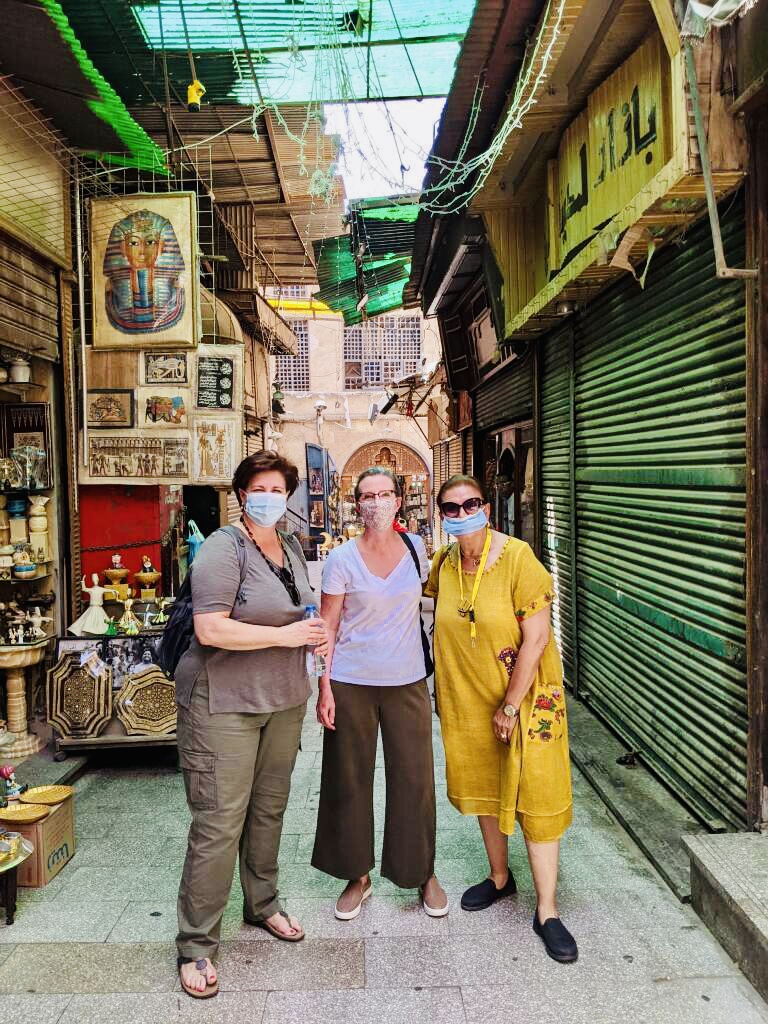 So what is it like to sightsee and tour these days?
We had a private guide in Cairo for just our group of 3, she was a fantastic Egyptologist named Azza, pictured here on the right. Azza was PCR-tested by Abercrombie & Kent, the tour operator I used for this custom trip, before she met us for the first time. All guides are PCR-tested before meeting clients!
Our guide Azza ALWAYS wore a mask, inside and outside.
Our driver was PCR-tested by A&K before he met us at the airport for the first time, and he remained with us for the entire time.
Masks are not required to be worn outside, but we chose to wear them through the Khan el Khalili Bazaar pictured here.
NO CROWDS! This is the largest bazaar in the Middle East, and the usual throngs of people are missing. It was the same all over Egypt. This is the biggest benefit to traveling this year. I have picture after picture of myself at some of the most iconic sites on this planet, like the Great Pyramid at Giza, and there are NO people in the background. This is simply unheard of.
Locals may or may not wear masks, as well as the other tourists we encountered (Russians and South Americans). Another reason why I recommend being fully vaccinated before you take on this type of travel.
The highlights of the King Tut collection (the sold gold coffin, the solid gold death mask, throne, etc) are still in the Egyptian Museum in downtown Cairo, but will be moving to the new, billion dollar Grand Egyptian Museum (GEM) when it opens, now most likely in 2022. It was a real treat to see Tut's collection without people bumping into me.
There was hardly anyone out in The Valley of the Kings down in Luxor, where all the pharoah tombs are. You feel like Indiana Jones here. I was literally the only person in the tomb of King Tut! Well, me and the security guard who wanted to take pictures of me with Tut's mummy.
NO LINES ANYWHERE. I was inside the Great Pyramid at Giza with no one.
Security guards out at the tombs will take you to areas that usually are off-limits, and they will show you more and explain more becuase they have the time and there are not a gazillion people jostling for positions.
BOTTOM LINE:
You can have a very unique and maybe never-to-be-repeated travel experience this year IF you are willing to deal with a couple of small (at least to me) compromises such as testing and some mask wearing.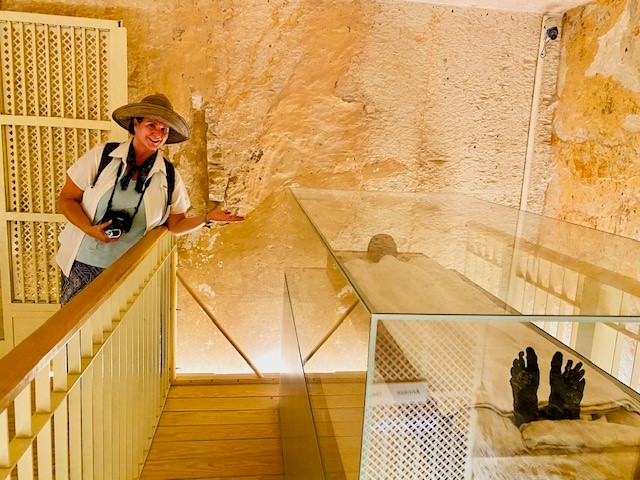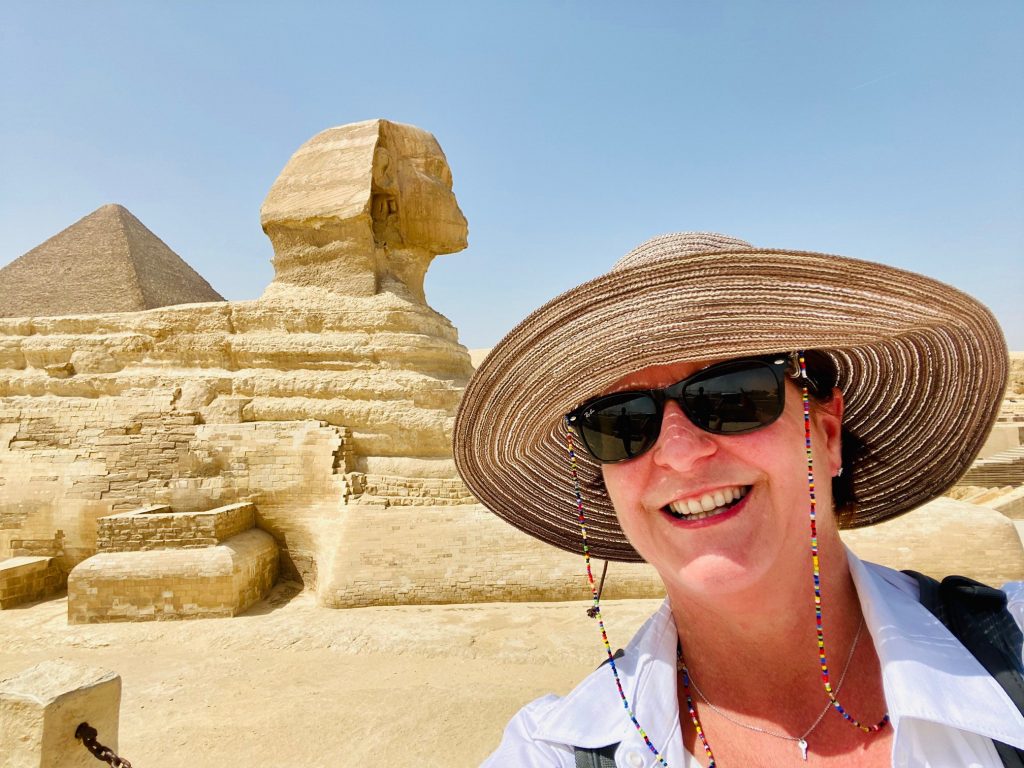 Onsite Hotel & Ship Experience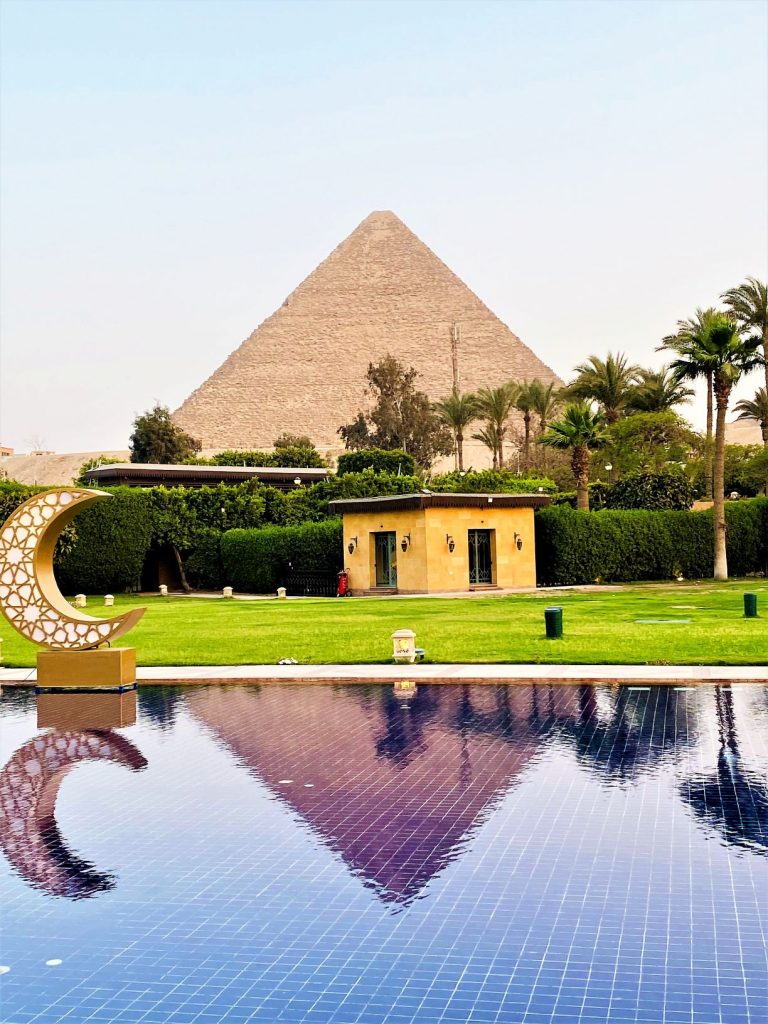 We were met by friendly smiles and hospitality everywhere we stayed. People are so happy to see and welcome tourists again, it's very noticeable. It was great to experience!
Four Seasons First Residence was our home for the first 4 nights. High security including bomb-sweeping every car and entering through a metal detector every day. Staff always properly masked. Sanitary kits including masks, gloves and sanitizer provided in your room. Rooms spotlessly clean. Housekeeping twice daily. The cigar bar was closed due to Covid, but all restaurants open. Outdoor pool open. There was a large open air restaurant around the pool, and that's where we ate and drank all the time. Here, we were introduced to an Egyptian white wine, Jardin du Nile, that became our go-to drink the entire trip. Not just because of the crisp taste, but also because of the 400% tax that Egypt puts on imported alcohol, whoa!!
We sailed 4 nights on the Nile on A&K's own ship, the Sanctuary Sun Boat IV. 40 state rooms but operating at max 50% capacity. So only 40 passengers allowed onboard and we had 34 people on our sailing. ALL CREW PCR TESTED before a sailing. ALL GUIDES PCR-TESTED before being allowed onboard. Hand sanitizer everywhere and required when you come back onboard after sightseeing. Personal hygiene kits (masks, gloves, personal sanitizer) provided in every room. Buffets at breakfast and lunch but food spread is behind very high plexiglass shields. The gloved staff puts the food on your plate and brings to your table. A la carte dinners. Masks required while walking round inside onboard but not on outside decks. The small tiled pool on the top deck was open (and fab!). A doctor travels onboard in a stateroom that has been turned into a medical suite. The doctor's services- should you need them- are free of charge, as is any medication he prescribes (and that is carried on board).
Sanctuary ship crew was terrific and could not do enough for you. So happy to see tourists again! Food and drink were excellent, but alcohol prices were ridiculously high.
We ended our stay in Egypt at the famous Mena House Hotel, overlooking the pyramids at Giza (picture above). This hotel has seen better days and is trading on its killer location and reputation. I will say, it's green grounds and gardens are beautiful and the large sparkling pool was a real treat after seeing all that beige of the desert!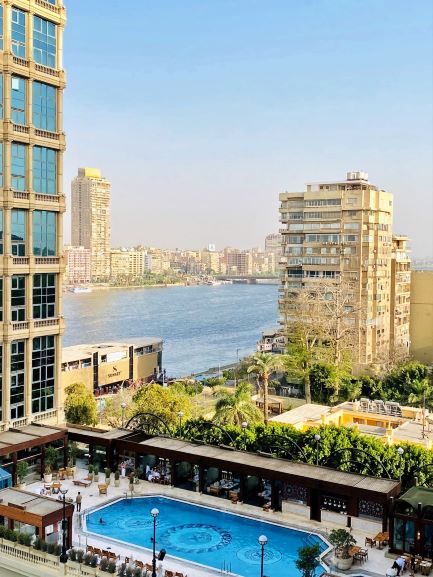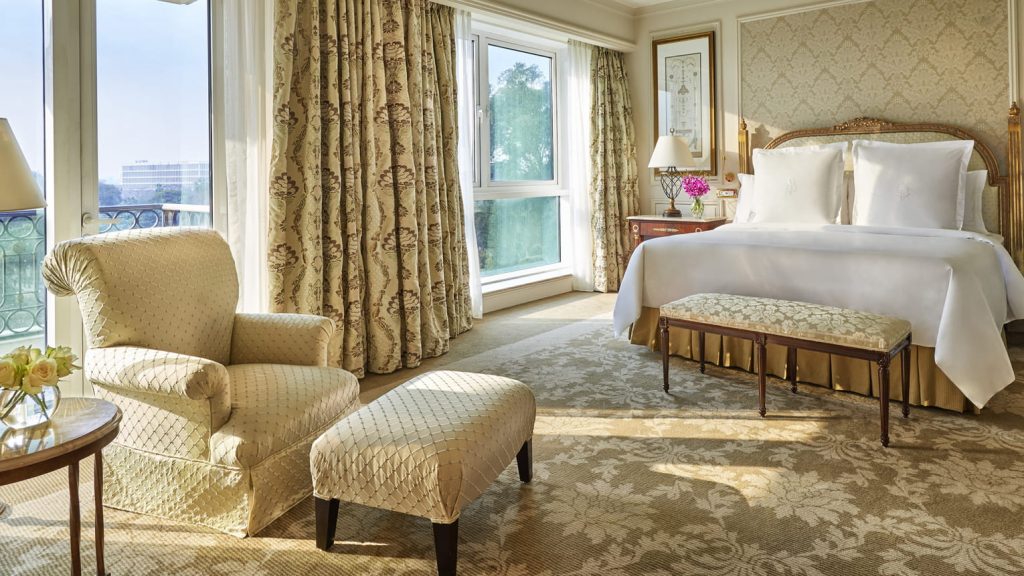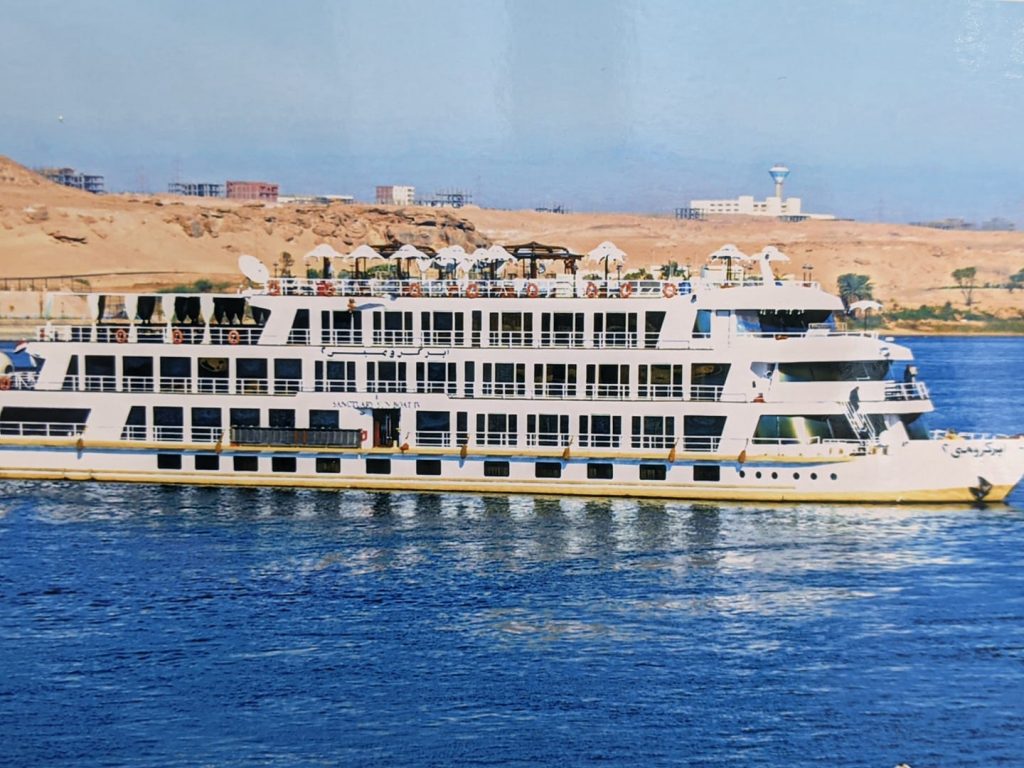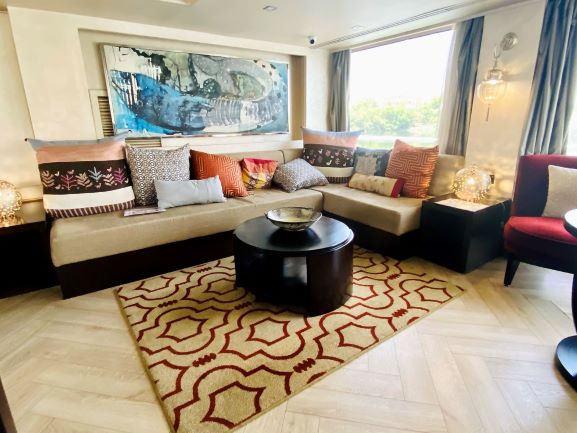 TESTING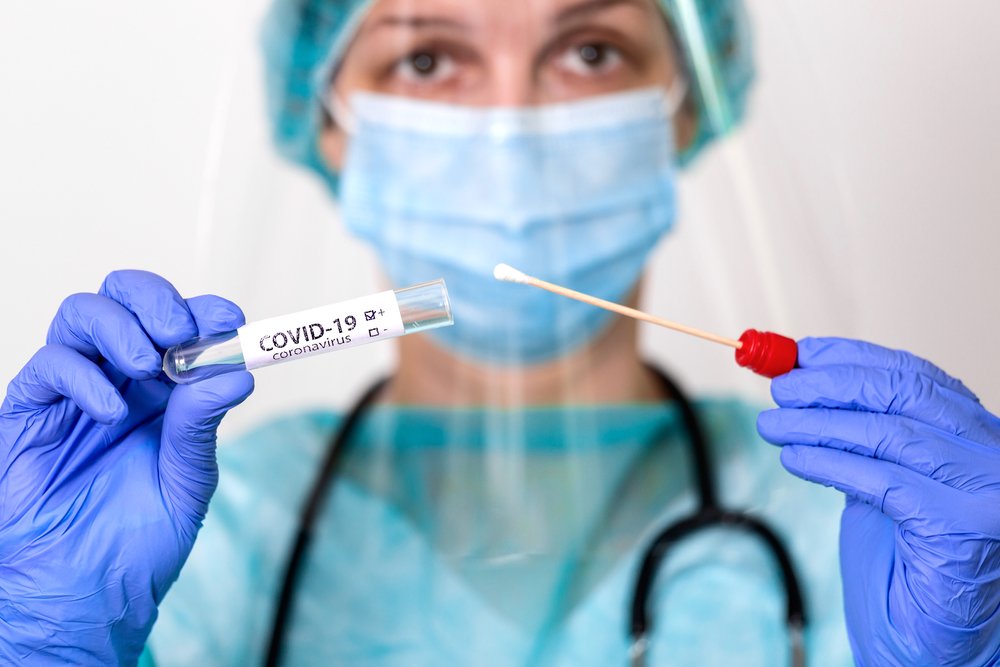 I had to test to get on my first flight on Turkish Air, and that test also sufficed for my entry to Egypt requirement. MUST BE A PCR TEST!
The US government is currently requiring all travelers above the age of 2, regardless of vaccination status, to provide proof of a negative PCR or rapid result antigen test (the cheaper test) to return to the US. You can show proof with either a hardcopy lab result OR electronic on your phone.
I arranged for a doctor to come to the Mena House Hotel and he nasal-swabbed the three of us right in the lobby in between our spa appointments! Took 5 minutes, we paid on the spot. I received our scanned results via Whats App and they dropped off hardcopies of our test results at the hotel front desk 24 hours before our flight home. Easy and convenient and no-stress.
For any traveling clients, I can arrange to have your Covid test done onsite wherever you are.
FYI- the airlines check your test result before you board your flight to the US, but once I landed at Dulles, NO ONE asked to see a test result.
---
If this inspires you to start planning something for later this year or 2022, we are here for you.
Questions? Feel free to contact me anytime, I love to talk travel!
There's nothing like the anticipation of a trip to look forward to:)
-DENISE
Great Pyramid

Khan al Khalili Bazaar

Egyptian lunch!

Sakkara

Egyptian Museum

Canopic Jars / Tut

Canopic Jars / Tut

Detail from Tuts throne

Sandals of Tut

The Hanging Church

Mohammed Mosque

Valley of the Kings

Me & Queen Nefertari

Ramses Tomb

Tutankhamens Sarcophagus

Temple of Hatshepsut

Temple of Karnak

Avenue of Sphinxes

Kom Ombo

Mena House

Sound & Light Show at pyramids
---