Cruise ships have just gotten back into the water with guests onboard. I sailed with Holland America on the Nieuwe Amsterdam from 8/21-8/28 to Alaska from Seattle.
Here is what it's like to sail on a major cruise line right now, Stateroom tour at the end!
COVID PROTOCOLS
-This was a fully vaccinated cruise, both crew and passengers. No one under 12 allowed onboard.
–Passengers also had to present a negative Covid test on embarkation day, along with your physical vaccine card. No phone pics or photocopies allowed. These documents were thoroughly checked multiple times before embarkation.
-There was no restricted occupancy, the ship could sail at 100% capacity; this ship has a max of 2,100 passengers and we sailed with about 1,500 people.
–Masks were required to be worn ONBOARD and INSIDE the ship at all times but not on outside decks or at pool or hot tubs. And no masks when eating and drinking of course, and this applied in all the bars and lounges as well. Plenty of people were sitting around on couches and chairs mingling and drinking with no masks. It's one of the few times you actually felt things were "normal".
-There was no required social distancing in any restaurants, lounges or main stage.
-No temperature taking (like I have experienced at many hotels)
-Hand sanitizer everywhere and required to enter any eating area
-HAL-branded cloth masks provided in your stateroom
-Lido Buffet was open but fully partitioned and you could not serve yourself, you pointed and masked/gloved staff made your plate. No getting drink refills yourself, staff served.
-Explorations Coffee Café was open but crew made your drinks and put sugar and creamer in, you could not touch anything. No condiments out and everything served in paper cups.
-Masks were required on all bus transportation and on all shore excursions due to local mask requirements. Local regulations were strongly recommending wearing masks inside AND outside. We always wore our masks unless we were whale watching on boats and outside on deck.
-The ship was spotlessly clean; I saw staff regularly wiping down stair handrails at all times of the day, constant cleaning.
-Crew were ALWAYS masked and anyone working in the buffet area were gloved as well.
The crew could not have been happier to welcome guests onboard, and provided stellar service throughout the entire week.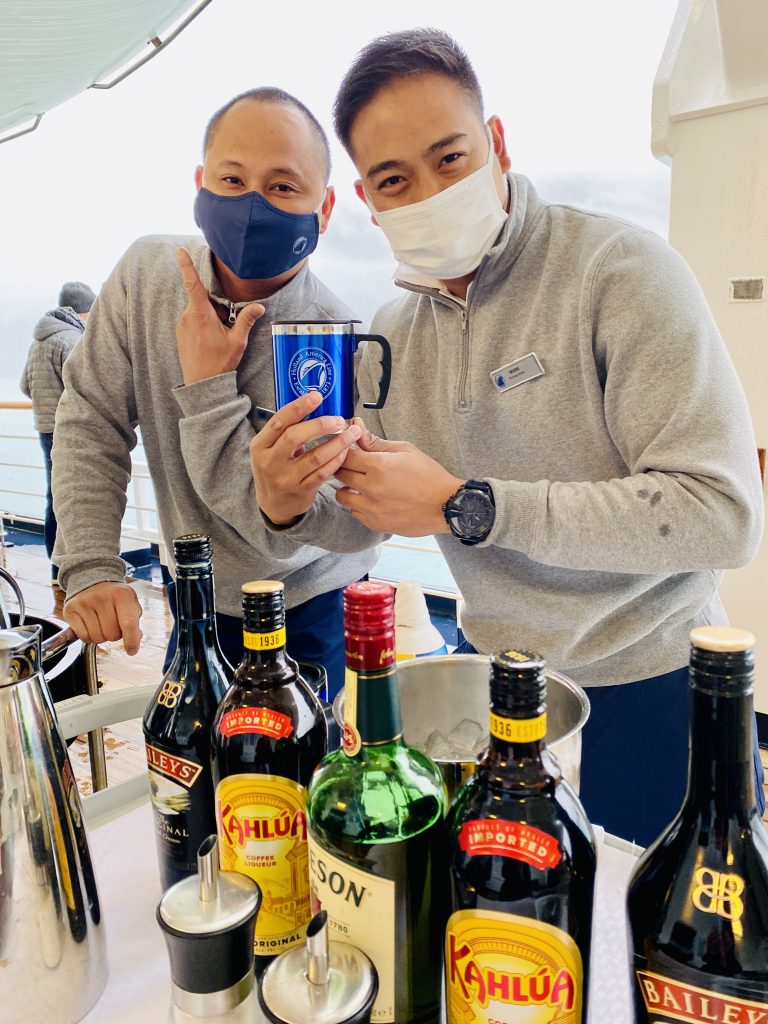 I did not stay locked away inside my stateroom for the whole week! We were out in a specialty restaurant for dinner every night, an afterwards closed down the BB King Blues Club. We had cocktails in various lounges, went to the spa for and pretty much did whatever I usually would do, except I wore a mask whenever I was inside.
Yes, it is annoying to wear a mask indoors but for me, it's worth it if allows me to travel and have new experiences while feeling like I am living somewhat of a normal life again. This is a highly personal decision, everyone has their own threshold. Even wearing a mask all the time, I still had a great time.
Thankfully, an Alaskan cruise means that you will be spending a good amount of your time outdoors and out on deck, so that definitely made things easier.
VERY IMPORTANT POST SCRIPT to this story: I took a PCR test after a few days home and tested negative! So happy that I traveled safely and responsibly to the absolutely beautiful 49th State- I will be back!
Any questions about Alaska or cruising in Alaska? Feel free to contact denise@luxurytraveladventures.com