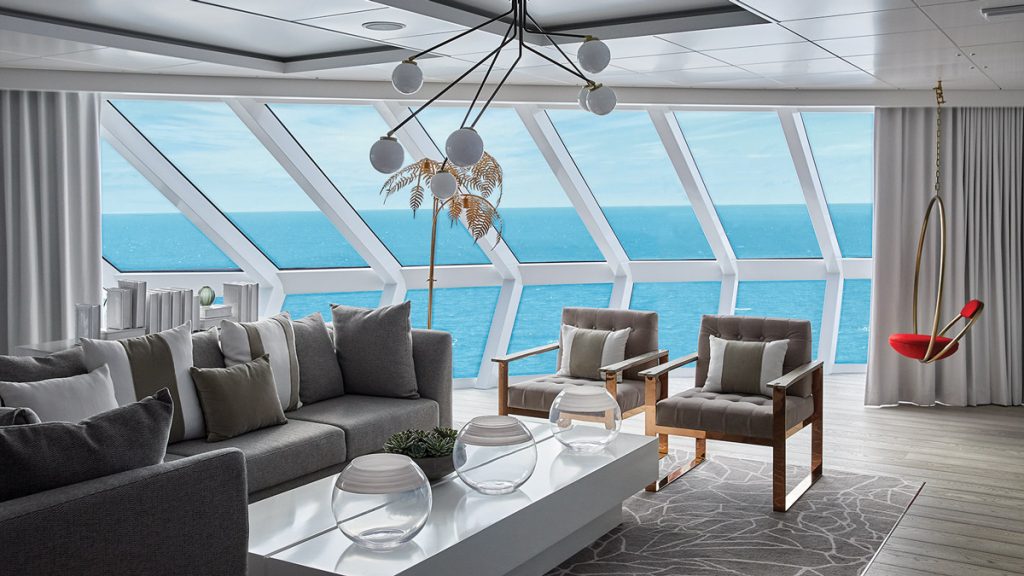 Cruise in sleek style onboard this high-tech beauty
The Celebrity APEX is an Edge-class ship and brand-new build that started sailing in Nov 2021.
I sailed the 2/5/22 Western Caribbean in a Sky Suite in The Retreat, and it was a fabulous experience from start to finish.  And-I didn't get Covid.
First Impression of the 2,910 passenger APEX: It's sleek, modern and stylish with incredible artwork onboard and lots of tech including streaming WiFi. The Retreat, basically a ship within a ship reserved for suite guests, is worth every penny-has its own concierge lounge, sundeck, pool, hot tub, bar and even restaurant.
FOODIE Credentials: 29 restaurants and bars! And famous, acclaimed chef Daniel Boulud is the global culinary ambassador and offers a special Chefs Table.
Who is it for: Adults and families with older kids who like an upscale environment with a cuisine-focus. The Retreat is for guests who sail Silversea & Regent but want the variety and amenities of a larger ship
One dish to rave about: Lemon-poached lobster with melted leeks, shitake mushrooms, lobster ravioli and beurre blanc sauce. Perfect! Luminae Restaurant.
Happy Hour Hot Spot: EDEN, a high-concept, high-design area with bar that is filled with artwork and (real) hanging plants, and has an amazing cocktail curations menu!
Most pleasant surprise: The nightly onboard entertainment was WAY better than I expected! The high definition, gazillion pixel wrap around screen in the theater and round stage is truly incredible. The "Rockumentary" show with a live band doing Classic Rock mega hits was really good as was the "Crystalize" high energy show with acrobats.
Most Unique Spa Treatment: The Hot Mineral Body Boost treatment on the pioneering MLX Amber and Crystal Quartz heated bed. The heated minerals help alleviate muscular pain and remove toxins and serve as a catalyst to warm and deeply relax the body. Of course I tried it! Thumbs up!
Stateroom that delivers the most bang for your buck: The Sky Suites, which are entry level suites but still part of The Retreat and come with premium beverage package, streaming wifi, prepaid grats and $300 per person onboard credit.
Biggest Splurge:  The 2,600+ sq ft Iconic Suite with 2 bedrooms, 2 full bathrooms and floor to ceiling windows. Pictured above. WOW.
Being completely honest here-I am not a cruiser at heart BUT this ship is so spectacular I might become one!
See video clip below of my suite tour, and some ship pics.